I made this art/memory journal on our family vacation in CA this year. I'd always wanted to make one and really enjoyed working on it each night after our fun day.
What I did was a watercolor picture of the highlight of each day on the pages w/tabs. And journaled about the day on the page next to it.
I really enjoyed reminiscing about the memories made each day and recording them so I can remember every time I look back through this little memory book!
These are just some of my fave highlights. I'm looking forward to adding the photos soon!
I hope you enjoyed taking a peek and maybe even got inspired to start one of your own!
Linking up here: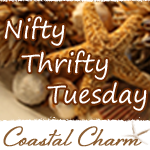 http://www.sixsistersstuff.com
" target="_blank">
http://i1249.photobucket.com/albums/hh517
/CamilleBeckstrand/button2copy.jpg" alt="SixSistersStuff.com" width="150" height="150" />
http://i833.photobucket.com/albums/zz259/nichellelora/talenttuesday-4.jpg" />